Over time, many women become aware of a ballooning or bulging of the vagina walls, or the uterus (womb) sitting lower in the vagina. Others describe a heavy dragging sensation low in the pelvis. These are all signs of prolapse.
The pelvic floor muscles are a broad sling of muscles, like a trampoline, stretching from the pubic bone at the front of the pelvis to the coccyx (tail bone) at the back. They form the floor of the pelvis and are responsible for: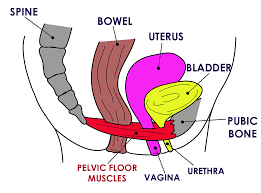 - Supporting the pelvic organs - bowel, bladder and uterus (womb)
- Controlling the bowel, bladder, and sexual functions
Weakness of these muscles can happen following childbirth. Also, gravity, obesity, chronic constipation and persistent coughing all put a huge strain on the pelvic floor. When the pelvic floor weakens and sags the pelvic organs become less supported and drop (prolapse). Menopause also affects the pelvic floor.
The muscles and ligaments of the pelvic floor are oestrogen-sensitive, so oestrogen deficiency directly affects their strength. Similarly, changes in collagen, also due to less oestrogen production will affect the support mechanisms of the pelvic floor:
About half of post-menopausal women are found to have weakening of the front wall of the vagina (anterior vaginal wall prolapse – can affect bladder function); about a quarter have similar problems with the back (posterior) wall, which can affect bowel function, and one-fifth with the highest part of the vagina.
The most common type of incontinence is when urine leaks during activities such as coughing, sneezing, lifting, and during exercise (stress incontinence). It can be caused by weakened pelvic floor muscles.
Local oestrogen (applied into the vagina in cream, pessary or ring formulation) has been shown to improve many bladder problems and reduce urine infections. Genuine stress incontinence would not appear to be helped by oestrogen alone, but it does seem to add to the action of other treatments being used.
Whilst having a prolapse isn't dangerous, it can affect quality of life. Like all muscles, the pelvic floor will lose tone and strength if it isn't exercised -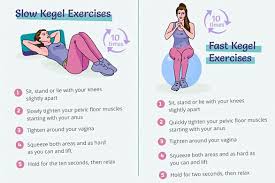 By performing regular pelvic floor exercises (also called kegel exercises), studies have demonstrated significant improvements in symptoms of prolapse and bladder control. These exercises can also increase sexual pleasure.
There are lots of resources and apps that demonstrate how to perform kegel exercises.
There are also various weighted pelvic floor training products that can be purchased and inserted into the vagina to help ensure the exercises are being performed correctly.
Avoiding being overweight, chronic coughing and constipation will all help to keep the pelvic floor toned. It's never too late – or early - to train your pelvic floor. use it or lose it!