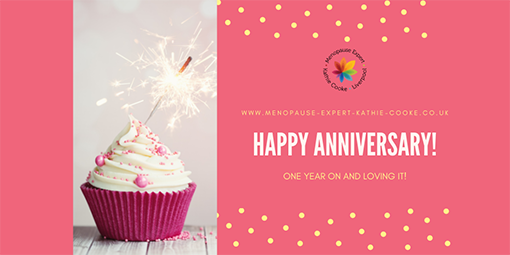 One year on – and what a year its been!!!
From media scares through HRT shortages and then a pandemic... reflecting upon my first year in business.
This month I'm celebrating my clinic's first anniversary! I've learnt so much and have loved the journey.
It was around two and a half years ago that I had finally decided I would open my own clinic. I'd been thinking about it for a while - frustration when hearing stories from my NHS patients about their experiences with private menopause consultations delivered by non-menopause specialists was my main influence. This was in the days before the British Menopause Society opened up their register to enable women to seek appropriately qualified – and revalidated - menopause specialists. Hearing about unnecessary blood tests, poor prescribing and inaccurate advice shocked me.
Many of the misconceptions and associations about risks from HRT stem from the now infamous Women's Health Initiative (WHI) study. Fallout from this study was massive – a generation of women and healthcare professionals rejected HRT, believing it to be too dangerous to consider. In the last year the WHI study came of age and still the incorrect messages sadly continue to influence both women and clinicians. So, to set the record straight:
Eighteen years ago we awoke to breaking news that HRT greatly increased the risk of breast cancer. The story was about a landmark trial assessing the effects of HRT on post-menopausal women being halted prematurely because of the health risks it said it had discovered. Not surprisingly, the announcement caused panic among women and clinicians, and the result was a dramatic drop in HRT prescribing. HRT use declined by 46% in the USA, 28% in Canada, and similar drops occurred in the UK.
The WHI, an American trial, was undertaken to evaluate if HRT was a good preventative health measure for post-menopausal women when it came to heart health. The trial enrolled some 26000 women who were randomly assigned into groups who either took HRT or a placebo. The 16000 or so who had a uterus took an oral, synthetic form of oestrogen (Conjugated Equine Oestrogen or CEE- mimicking oestrogen derived from horse urine) and progestin, and the 10000 or so who no longer had a uterus took CEE only.
The age of the women when they were enrolled was between 50 and 79, with an average age being 63.5. They were monitored for 5.2 years but in 2002 the study was stopped after it showed an increased risk in coronary heart disease and breast cancer for those who took both hormones and an increase in stroke and blood clots for those who took CEE only.
By its own admission the study had limitations. It only used one form of old fashioned HRT, which is neither bodyidentical or breast friendly, it was taken orally – which is known to have the potential to increase blood clot risk - and the dose was the same for everyone – even women in their 70's who weren't experiencing menopause symptoms!
Two-thirds of women in the WHI trial were over the age of 60 and therefore would have a higher absolute risk of stroke, heart disease and breast cancer (all increase with age)and the majority of women were also overweight (average BMI of 28.5) and this is a recognised risk factor for heart disease and certain cancers, including breast cancer.
On top of that, the figures themselves were misrepresented. The WHI study found the number of cases of breast cancer increased from 30 to 38 in 10,000 women. Those extra cases represent a rise of 26% from 30 to 38 – but that does not mean that 1 in 4 women taking HRT will get breast cancer – which is what made the headlines.
None of this reflects current prescribing practice in the UK. Generally HRT is ideally started within the 10 year "window of opportunity" - within 10 years of the last period - which reduces risk and confers maximum benefit for the user. So the majority of women are starting HRT in their 40's and 50's, not 60's or 70's as they were in the WHI study. Older women or women with other risk factors would be advised to use transdermal oestrogen which does not affecting blood clotting. More modern progestogens are prescribed whenever possible to reduce breast cancer risk.
Despite all this, the results were generalised and applied to all women – including women under 50 with early menopause - who were not even part of the study - where clear benefits of taking HRT are well established. Subsequent re-analysis of the WHI trial included new studies and a meta-analysis showed that the use of HRT in younger women (50–59 years) or within 10 years of menopause had a beneficial effect on the cardiovascular system, reducing coronary diseases and all-causes of death. It also later confirmed a decrease in instances of breast cancer in women taking oestrogen only HRT. But good news doesn't make the headlines.
Rant over – for now.
So, I set out to open a clinic. I decided that if women wished to have private, rather than NHS care, they should have the best possible experience. Whilst I give the same advice and level of personal investment into all my consultations, having the luxury of time in my private clinic is so nice. Some specialist products are only available privately; being able to prescribe these when required has given me huge satisfaction, ensuring the best "fit" for each woman.
Being able to properly answer questions, explain and discuss research findings and really "hear" each woman's story, as a clinician has been a revelation. I generally establish rapport quite quickly – working in Gynaecology, when examining, and discussing intimate health issues - being approachable, supportive and empathetic becomes second nature. However, having an hour to really focus and understand each client's needs has been refreshing, and reminds me why I went into Nursing nearly 35 years ago – simply to help people to the best of my ability.
Never having had any experience in doing anything other than clinical care, it was a very, very steep learning curve!! I didn't know what I didn't know. I enrolled in some workshops with The Women's Organisation, Liverpool learning everything from business planning, tax and book keeping to marketing and promotion. I networked with others running private menopause clinics, and scoured their websites to get ideas about how I would organise my clinic. Then I needed to find premises – that was easy, where else would a private medical clinic in Liverpool be but in prestigious Rodney Street? 88 Rodney street was ideal.

I needed a company name, and logo, business cards, an email address, website and so much more - all beautifully taken care of by Enterprize Web Design and print who continue to format and tidy up my blogs and host the website (who knew!). Then came sourcing a secure patient record system, meeting GDPR regulations and registering with the Information Commissioner's Office. I needed a business phone number, a PO Box address, headshots, links with a pharmacy, a contract with a laboratory to run blood tests, some office and medical equipment ….oh and a lovely wheeled briefcase with purple lining…the list went on and on, and on.
A particularly challenging area for me was setting a price for consultations. Being decidedly left wing politically, charging didn't come comfortably to me. Understanding my overheads, breakeven point and the rates my peers - and therefore my competitors - charged, as well as a realisation of my own self-worth, I set my prices to closely match similar local services.
Probably the most daunting aspect of setting up the clinic, however, was gaining registration with the Care Quality Commission – the independent regulator for all health and care services in England. This organisation scrutinises all aspects of both NHS and private medicine to ensure it is fit for purpose – from premises, to the reputation and qualifications of the owner, through insurance, contingency planning and safeguarding awareness to the nuts and bolts policies and procedures of running the clinic, - all are reviewed in a fair but intense interview – to ensure public safety.
My interview on 8th August 2019 wasn't nearly as stressful as I anticipated, and within a week or so I received confirmation I could open up! I had a holiday planned, and then would open for business in September 2019.
Literally just days before opening, the next in a long line of damaging headlines about the perceived dangers of HRT broke in the media. Headlines such as this in the Guardian Newspaper screamed: Breast cancer risk double what was previously thought.
And even more damning was the source - the evidence was from an article published in the highly reputable British medical journal, The Lancet. The Collaborative Group on Hormonal Factors in Breast Cancer (CGHFBC) described higher than previously reported breast cancer occurrence for women using HRT when they performed a meta analysis of data. Shockwaves across the UK ensued. Opening a menopause clinic couldn't have been more badly timed!
The reality? Meta analysis isn't new research, it's a re-evaluation of existing results – and whilst its' strength is the combination of many research studies' findings, weaknesses can occur when considering which research findings are used – and crucially, which are ignored.
The British Menopause Society unpicked the research and issued reassurances that there was no real change in the data, just how it was presented and interpreted; the consensus statement from all key clinical players released August 2020 agreed that the overall findings from the CGHFBC meta- analysis were not new and were in keeping with the NICE menopause guideline 2015
The conclusions in the NICE guideline came from the combined review of both observational and randomised control trial (RCT – the gold standard in research robust-ness) evidence. The Women's Health Initiative RCT data were not included in the CGHFBC meta-analysis and the large E3N observational studies, which reported on the breast cancer risk in users of bodyidentical micronized progesterone compared with other progestogens were also ignored.
Yet again, a panic for nothing – but how many women have been influenced by this and stopped or never sought menopause treatment? Obtaining trustworthy accurate information is still so difficult – women don't know where to turn and what to believe. Unfortunately many GPs haven't got up-to-date skills and knowledge to advise appropriately about menopause – which is why Diane Danzbrink's campaign with 3 broad aims is so important:
1. improve GP education,
2. support women in the workplace
3. include menopause education in secondary school curriculum – achieved starting this September.
I've signed – have you?
Ok no more rants. Maybe.
So, I went live. First couple of months were pretty quiet, I saw just two clients in September, but there was still so much to do I was glad! Designing letter and prescription templates, writing information leaflets, raising my business profile on Twitter all took me, a technophobe far longer than standard. But I enjoyed it all. The pride in having my own clinic, seeing it take shape – just how I wanted it to - was amazing. Big thanks to friend and social media guru, Fiona Catchpowle AKA Cyber Gran for all her input and help setting up Facebook.
Towards winter 2019, the HRT supply shortage really took hold. HRT shortages were first noted in the UK in late 2018 and they continue to the present day. Literally overnight women were unable to access their repeat HRT prescriptions. Chaos and lots of stress ensued. In desperation, women travelled from chemist to chemist trying to obtain supplies and tried to eek out their prescriptions by under dosing. Guidance from the British Menopause Society (BMS) about like-for-like or best equivalent products was released - and then updated, as more products became unavailable. They are still releasing updates, although most products are now available again. Answers were demanded in Parliament: Initially, supply problems due to manufacturing issues were reported and these were potentially aggravated by an increased demand for transdermal HRT preparations. While the situation is now improving it is essential to understand what caused the shortages in the first place and a review is needed to prevent a similar situation arising in the future. We never got to the bottom of what happened; why suddenly numerous products weren't available. Fascinating investigative journalism via Tortoise Media reported a convoluted and complicated story.
Of course, there's always a winner in every situation. The Bioidentical HRT market flourished during this time. Unregulated, unsafe and not endorsed by clinicians with specialist menopause qualifications, the BMS wrote a damning consensus statement about Bioidentical HRT , and my blog sought to get the message out that as menopause specialists we have always recommended bodyidentical HRT – we just didn't think to shout about it.
The clinic started to take off, I was getting a bit busier, more confident about the management side of things too. I was getting wonderful feedback from the women I had helped – perhaps the biggest compliment was when these women recommended me to their friends and people they care about. It totally made all the long hours I was putting in worth it.
Other highlights during that first year include being interviewed by Radio Merseyside; seeing followers on social media increasing, and being approached to contribute to Talkhealth a patient-centric online health community in collaboration with the NHS who were putting together a free 12 week online menopause resource – mines number 9! Plans to talk at various workplaces and conferences were pencilled in, and menopause workshops scheduled; I'd decided to reduce my NHS hours slightly to enable me to devote more time to my clinic, starting April 2020.
Then… March 2020. Covid-19 put us all into lockdown….and for a while, the world stopped. Obviously my clinic took a back seat. All my arrangements were cancelled, and clinic appointments put on hold. We learnt a new language – Furlough, Shielding, Isolating, Social Distancing, Zoom etc, and the NHS become everyone's hero. We queued for shopping, with liquid soap, toilet rolls and flour becoming unlikely luxury items. We formed street What'sApp groups and only left our homes for exercise once a day….already it seems such a long time ago.
In the early weeks of lockdown all routine NHS work was also suspended, but the cancer pathway continued undisturbed and therefore I carried on delivering face to face suspected cancer clinics in my NHS role as Gynaecology Consultant Nurse. Unfortunately since all routine clinics closed, there was no menopause provision – private or NHS - in those early weeks; leading to some women suffering dreadfully, with nowhere to turn, and no idea when they would be able to access help.
Guidance from various medical bodies was published giving clinicians advice about how to manage gynae problems, including menopause, with the limited resources available. The concept of remote consultations was floated, and once official approval from medicolegal bodies was given, we rapidly moved to embrace an efficient and convenient way of providing many aspects of care.
I was conscious that some women who would not usually consider private medicine were seeking menopause consultations in the private sector. Myself and a few colleagues around the UK offered discounted Covid consultations to help support women through those bleak lockdown months. For a while we were all in it together.
As lockdown eased, In July 2020 I made the decision to offer face to face appointments again. Whilst phone and video consultations suited many women seeking to address their menopause symptoms; I knew some women were not comfortable talking remotely, possibly fearing being overheard at home, or having intimate concerns, requiring examination. 88 Rodney Street made every effort to welcome clients and staff back safely, and have updated their arrangements in line with current government guidance. Remote consultations are here to stay though – we will all experience local lockdowns, so it makes sense to be flexible.
September is menopause awareness month, so my anniversary blog/rant is well timed, and paves the way for the big one –
World menopause day is October 18th. It'll be a virtual, socially distant, masked affair this year. But no less important.
Even if women feel they don't have awful symptoms that need treating, menopause is a transition and it's an ideal time to revaluate life and health. There are silent consequences to long-term health from being menopausal – women don't tend to get Heart Disease or Osteoporosis until after menopause as Oestrogen protects heart and bones – which is why HRT is strongly recommended for women who have early menopause.
These younger women may not have started, or completed, their family, and entering menopause can be complicated by the emotional burden of adjusting to a different future.
Some women are plunged into menopause overnight – possibly after cancer treatments. As well as the significant menopause symptoms and treatment side effects, they have the emotional rollercoaster of their cancer diagnosis to contend with.
Many women do experience dreadful symptoms: Menopause can be overwhelming. Sleeplessness, hot flushes, irritability, low mood, brain fog, headaches, joint pain, poor memory and concentration, exhaustion and loss of confidence are all very common symptoms.
Menopause can be devastating for some women. It often occurs at a time in life when they are juggling lots of competing roles – elderly parents with failing health, teen/adult children worries, possibly caring for grandchildren as well as doing their own job.
I've met many women who simply stop coping. Through fatigue from sleeplessness and anxiety about severe flushes they lose a sense of self and become withdrawn…isolated….depressed. Libido disappears. Relationships suffer, and breakdown. Many women walk away from their career.
Women have confided self-harming and contemplating suicide. World suicide prevention day also falls in September – did you know the age group for women with the highest suicide rate is 50-54? The average age of menopause in UK? – 51. I don't think that's a coincidence. Too many women are mismanaged with antidepressants instead of being offered HRT. NICE guidance clearly states HRT should be first line treatment for menopause symptoms – and that includes low mood and anxiety - women should not routinely be offered antidepressants.
Then there's the bladder/vagina symptoms that may not appear until years after menopause – needing to wee more, feeling like there's a low grade urine infection but samples are clear…vagina dryness – or when very dry, increased discharge that can have unpleasant odour etc etc… all thanks to lack of Oestrogen.
And here I am, one year on: mid-September 2020 - rule of 6 starts today and Liverpool looks close to a local lockdown…Who knows where we will all be in another year. I aim to still be here, adapting and working in new ways, still trying to get the message out there that all women need access to correct, evidence based information about menopause in order for them to be able to make informed decisions for themselves.
OK rant definitely over - for now.